Cayla Chandara is a waitress that currently lives in Waikiki, Hawaii. She waits on tables nearly everyday as she has to pay off her student loans. Last week Cayla was waiting on a table at Noi Thai Cuisine, one of the restaurants that she works at.
Sitting at the table was an Australian couple that seemed to instantly develop a rapport with Cayla. As the couple dined, they ended up getting to have some more short conversations with Cayla in which they learned a few things about her situation. Cayla explains, "They asked me where I was from, and I told them I moved here for school but I was kind of in a little bit of debt and I couldn't go back to school, because I couldn't afford it and the cost of living here."
By the time that the couple was done with their dinner, their bill added up to $200. Of course, the couple paid and then returned to their hotel. When Cayla went to pick up the bill, she noticed that the couple had left her with a $200 tip. She was left in total shock as she had never received a tip that big in all her time working as a waitress.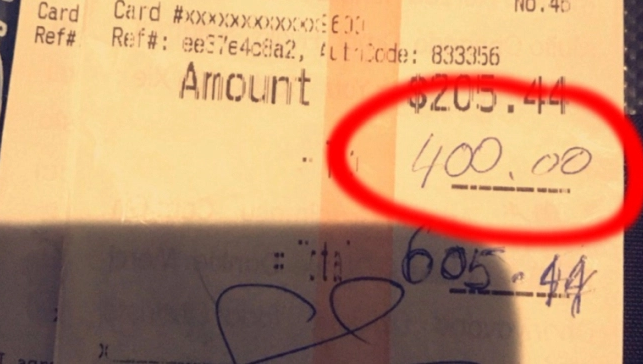 Over dinner, Cayla learned where the couple was staying. She wanted to show the couple how much she appreciated the tip so she picked up some flowers and a card to take over to the hotel, and luckily they were still there. Cayla thought that would be the end of it, but she was mistaken.
The day after she dropped off the flowers and card the couple decided to come back to the restaurant; yet, this time the couple made her another offer. They were willing to pay off her student loans which add up to around $10,000. She couldn't believe it, and even now she says, "I still don't feel like it's real. I want to run around in the streets."
The couple wanted to remain anonymous, and said that the best way for her to thank them was to pursue her dreams and be the best version of herself that she can be. She plans to follow up on that promise and return to school to study business and liberal arts.