The Fate of the Furious' Dominic Toretto (Vin Diesel) didn't go fully to the dark side after working with villain Cipher (Charlize Theron). In the final scene of the film, it's all about one thing… family.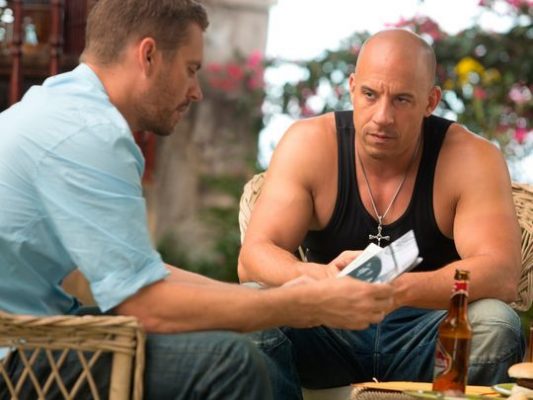 He's joined by on-screen wife Michelle Rodriguez and other crew members played by Tyrese Gibson, Ludacris and Dwayne Johnson in a touching final scene where he has once again returned to 'Good Dom'. This ending is anything but a surprise, and although that wasn't a shock there was something to throw fans.
Before we continue please be prepared for the spoilers ahead…
Vin Diesel's Dominic had a loving moment with his love child he had with Elena Neves (Play by Chris Hemsworth's real-life wife Elsa Pataky). Neves was featured in 2011s Fast Five as the Rio Cop who falls for Dom. Their love story was affected when Letty (Rodriguez) returns after being supposedly dead. Well, Elena meets her untimely demise in Fate and leaves Dom to care for their child.
What makes it more dramatic is that at their traditional barbeque scene, Dom introduces his son, whom he's named Brain O' Conner in memory of Paul Walker. Walker died in 2013, in a car accident. It was during the filming of the seventh film that he died. This baby name was inspired by real life actions as Diesel recently announced that his daughter with longtime girlfriend Paloma Jimenez is named Pauline after Walker.
"When I was in the delivery room with my youngest daughter, my mum was there. And she said it felt like Paul was in the room with me. My mother said that" Diesel tells USA TODAY. "We had already decided the baby's name. And when I went to actually write that down, I ended up writing 'Pauline'. That was the greatest tribute I could give to the man off-screen," says Diesel. "And so the greatest tribute I could give Paul's character was that scene."
Fate director said the tribute seemed fitting; "This was just the best way to end this story and also pay homage to Paul," says Gray, who acknowledged the scene was "tough shooting. It was very emotional for everyone involved." Fate is set to make a massive amount of money at the box office. In terms of the future, the cast prepares for Fast & Furious 9 which will begin filming next year for an April 19th, 2019 release date.