When Elvis Summers saw a woman sleeping in the dirt outside his house, he decided to do something about it. He met Smokie, the 60-year-old woman who was struggling to find a place to live, after she stopped by his home to ask for some recyclables. Over time, Smokie would continue to come around and gradually, Elvis and Smokie became friends.
One day, Elvis saw an article about a man in Oakland who was building tiny homes out of materials that had been thrown out. After reading the article, Elvis got inspired to save up some money to buy the materials needed to make a home for Smokie. It only took Elvis five days to build the new shelter for Smokie. After ten years of homelessness, Smokie finally has a stable place to live and call her own.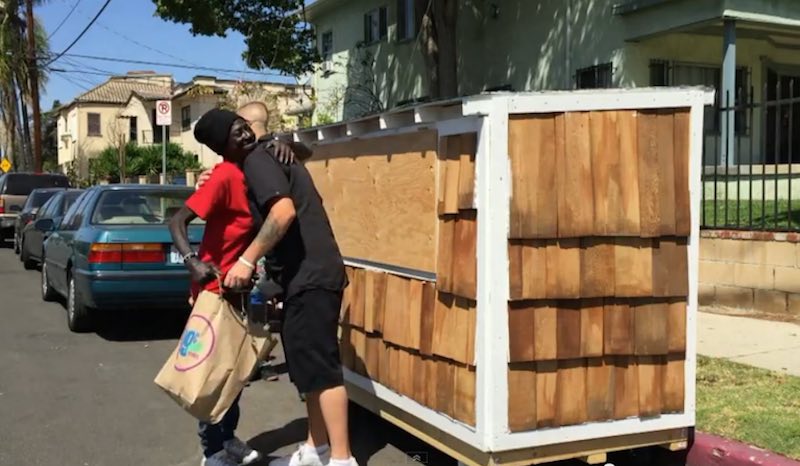 He told Good News Network, "I had nowhere to really build it, so I just built it in the street outside of my apartment. "The local LAPD cops have been super cool, and have told me they support it–as long as we move it to a different spot every 72 hours." Summers made this time-lapse video below to show people how easy it was to build the small home. All of the materials to build the home cost him $500 total, including two locks for the front door and wheels for moving the shelter around.
Since he built the home for Smokie, Elvis shared in an interview, "I've met so many homeless people, good people. Since I built Smokie's, I've had several people ask me to make them a tiny home and it's turned into much more than just the one house I wanted to build."
Elvis has decided to continue working on the tiny home initiative in order to help house more homeless people. The branch manager from Allied Building, Rick Sassen, has decided to generously help him out with materials. Elvis also has a crowdfunding page on GoFundMe to help with the cost of materials.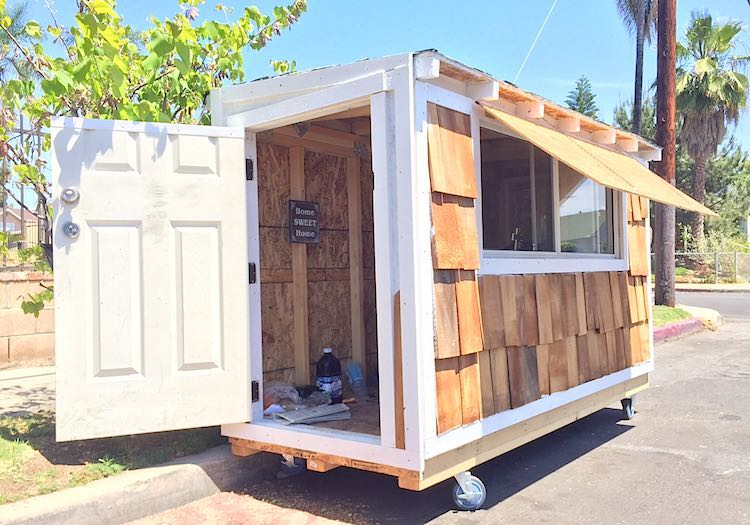 Elvis added, "I'd like to offer purpose to these people in need and hire them to build the houses with me. I've even set an appointment with LA's Mayor Eric Garcetti to try and get his help. The city owns or controls many properties which are just sitting collecting dust and could be used, even temporarily, to help save lives."