When Thomas Martineau married his wife Kiersten Downs last month, he decided to do the impossible, dance while standing up. Martineau became paralyzed from the waist down after a motorcycle accident in 2008. Typically, when Thomas and Kiersten dance together, they take turns spinning around in his wheelchair. They always have fun dancing together, but Thomas wanted to do something different for their first dance as husband and wife.
Kiersten told Yahoo Style, "We had talked about how we would dance, but never really came to any conclusions about it. I just figured we would improvise like we always do. Sometimes I sit on his lap, or we spin each other around just as I would if he was on two feet. There are lots of ways to dance in a wheelchair or with someone who uses a wheelchair."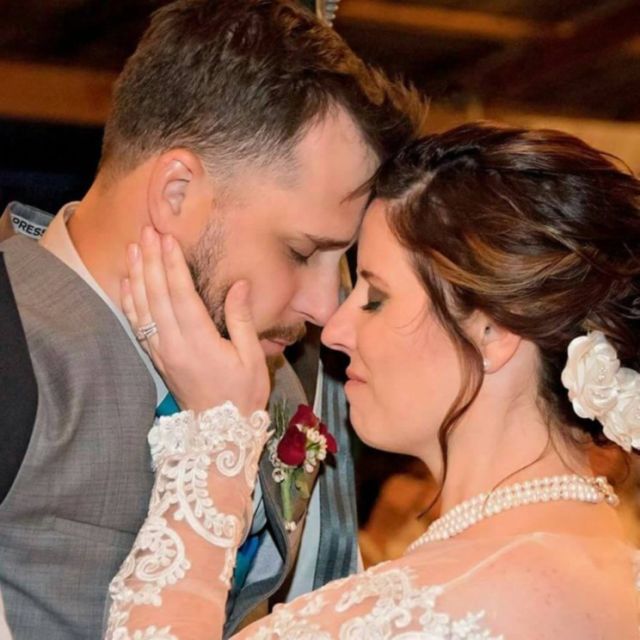 However, the Air Force veteran had a different plan. He talked with his friends before the wedding to organize out a way to stand on two feet for the first dance. They planned to have a system with pulleys and wires to hold Thomas up while he danced with his bride.
Downs admitted, "He is a sneaky guy like that." Downs had been very busy with her dissertation before the nuptials and did not realize that her husband was planning anything extra special. She is getting her Ph.D. in applied anthropology at the University of South Florida in Tampa. She continued, "Between that and work, I stay pretty busy, and I just never forced the issue of inquiring about it. I figured we would just do what we always do … and that is have fun!"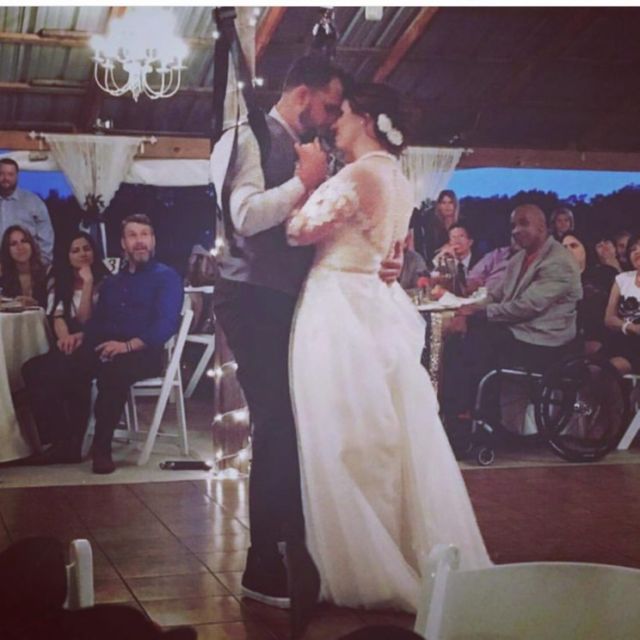 For the weeks leading up to the wedding, Martineau worked on the dance with his trainer at Stay in Step Spinal Cord injury rehabilitation center in Tampa. Dawn shared, "Steve was running around up until the very last minutes during the ceremony rigging up the suspension system. He wasn't sure it was going to work, but his plan came together in the end." Right after the ceremony, Thomas was nowhere to be found. Kiersten admitted, "I started to get nervous when we all lined up for our grand entrance. Thomas was not there with me. Michelle, the wedding planner and owner of Wishing Well Barn, told me he had to go to the bathroom and that he would meet me in the reception area. I just went with it and didn't think much about it."
It all worked out for the happy couple and the surprise went off without hitch!